Different types of motorcycles
The term motorcycle is a general name for any two-wheeled vehicle that has no pedals rather it is powered by a motor. In terms of types, it is available in a number of types for different usage. There are also different ways of classifying a motorcycle. It can be classified based on the type and the size of engine they have, the type of ride they are meant for, the intent of the designer and other ways. Though, there is no generally acceptable method of classifying a motorbike, basically, there are six categories of motorbikes which are most common, namely, cruiser, touring, dual-purpose, standard, touring and dirt bike. Here are some types of most popular motorcycles that you should know.
Street motorcycle
As implicit from the name, this is a type of motorcycle that come with light treaded smooth tires suitable for riding on paved roads. The size of the engine is within the range of 125 cc and above. This type of motorcycle is very widly known and can move with a speed of 100 mph. There are some that can move with a speed of 125 mph.
Standard motorcycle
Standard motorcycle which is also called roadsters or naked bike is a type of motorcycle that can run in different kinds of streets. They are created in such a manner that they enable the rider to sit down in a natural and upright position. The handlebar is somewhat high so that the rider will not lean forward. It is a most suitable option for beginners owing to their moderate engines, low cost and flexibility. This type of bike does not have windscreen or fairing. There are some models that have small windscreens. Owing to the absence of windscreens, they are sometimes referred to as naked motorbike. See also motorbikes for children.
Cruiser bikes
Cruisers also known as custom motorbike is a type of motorcycle that look like the American machine of 1930s as well as that of 1960s. The distinguishing feature of this machine is its large displacement V-twin engines. This type of motorbike is not very popular owing to the fact that its engine is not a high torque engine. With such an engine, riders are not able to accelerate as much as they had wanted. When you sit on the seat of a cruiser, your spine will be erect or slightly lean back, the hands are somewhat high up while the feet are put forward. This riding position can easily cause fatigue. Another problem with riders is that they don't offer good cornering ability owing to their poor ground clearance. Cruisers are available in a number of types which include choppers and power cruisers with engines that can create high torque.
Different types of sport motorbikes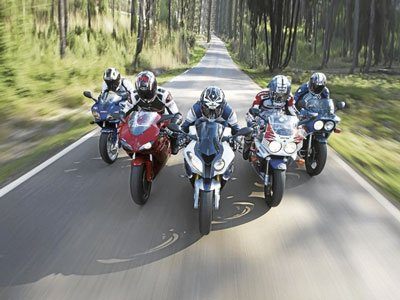 As implicit from the name, this types of motorbikes are basically designed to be used for sport purposes. Sport motorbikes are very popular and are known for their great speed and acceleration.
When it comes to shipping a motorcycle this is the most popular bike among Americans. As the bikes are cheaper in the UK, Americans buy it here in import to their country. Their cornering on paved roads as well as braking system is excellent.
However, they don't offer great fuel economy. The rider's comfort is not much emphasized as in other types of motorbikes. The frame is lightweight but they come with high performance engines that are capable of generating high torque.
Though, there are other types of engines, the commonest types of engine available in this motorbike engine is inline-four engines.
Another remarkable feature of this type of motorbike is the presence of windscreen and fairing. The windscreen helps to eliminate or reduce the overall drag by deflecting the air. The foot pegs of this type of machine are high and this brings the legs closer to the body. With such a position, there is a better ground clearance during cornering. The motorcycle is designed in such a manner that riders lean forward into the wind. However, such a position can cause fatigue if one is moving at a lower speed because it leaves too much weight on the arms and wrists. But the reverse will be the case if the rider is moving at higher speed. There are various types of sport bikes such as streetfighters.
Touring motorcycle
As implicit from the name, this type of motorcycle is designed to be used for a long distance journey. They are ideal to visit USA on a bike tour. They also come with screens and fairings which are meant to protect the rider against the wind and other element of the weather. Touring motorcycle also features large displacement engines, a comfortable and upright seating position, large tanks to contain enough fuel for distance travel and impressive luggage space. The weight of this machine ranges from 850 to 400 lb. Check this link out for some tips if you need a cheap motorbike insurance.
Touring motorcycle is also known by other names such as full dress tourer, dresser, full dresser or bagger. These names can be used to have a disparaging or jocularly implication.
Sport touring motorcycle
This motorbike type is designed to be used for a long distance journey but it comes with some of the features of sport bike. It is not as a heavy as an ordinary touring bike. Unlike a sport bike, it has better luggage capacity and more space for the passenger. It has a better a cornering capacity than pure touring bike. It comes with a racier suspension, engine and brakes. Sport touring motorbike is listed by some manufacturer under touring motorbike making it difficult for the two to be distinguished perfectly.
Dual purpose types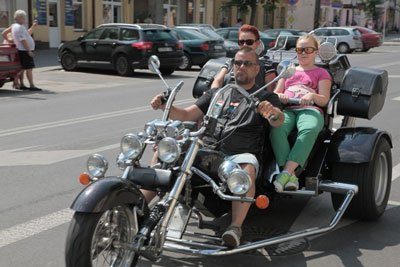 This type of motorbike is also known as dual-sport motorcycles. It is called dual-purpose because they can be used on a paved road as well as for off-road riding. However, structurally, they are somewhat different from pure street bikes. For example, street bikes are not as high as dual purpose motorbikes. They also come with taller seat which makes it possible for impressive suspension during off-road driving.
Dual purpose motorbike is of different types such as adventure motorcycle. This type of motorcycle is designed for both paved and off-road riding as well as long distance ride. As a type of dual-sport motorbike, they move at a high space. But their off-road ability is limited by their tires, size and weight.
Other types of motorcycles are scooters and supermoto
The above are some types of motorcycles you should know. However, as it is mentioned above, there are no universal methods of classifying motorcycles. So, it is possible to find other classifications of motorbikes. Are you looking to get rid of bike? On this page you can learn how to sell a motorbike! Read also about motorbike maintenance.