How to organize the transportation of motorcycles?

Transporting a motorbike on on the trailer
You can hire a trailer for example, from a local storage company, motorcycle services or from the gas station. You should, however, be very careful and drive rather slowly if you do not have any experience with this type of inland motorbike transport.
When moving a motorcycle on the trailer you expose it to a potential damage. You need to learn how to properly fasten it by using special straps. Make sure you have proper, solid and fully working belts. It is important to use some cushioning under the straps in the places where their touch your bike. By doing this you will prevent the varnish from scratches. To transport a motorcycle on the trailer it needs to be properly secured and it should not be able to move. Fixing the bike is very important because the sudden movement on the trailer can have serious consequences in the form of an accident.
There are also other options to move your motorbike to the port or collect it from the port. You can rent a special trailer solely designed to transport motorcycles. It is equipped with loading ramps and tie down anchor points. Such a trailer can usually carry one or two motorcycles, sometimes three. Please remember that you will also need a car with a hook and straps to complete the motorbike move with a success.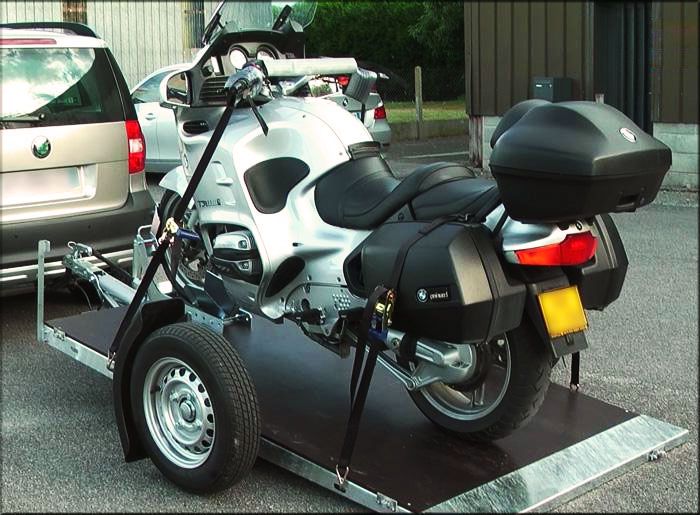 Moving a motorbike in the Transit van
Transporting a motorbike in the transit van is much easier and simpler. It is also much safer. You can hire the van which is kitted out to move motorcycles for about £80 per day. The van should have at least two rails, with anchor points, fastened to the floor of the van and two or three straps to secure the bike.
The quickest and safest way of delivering your motorbike to your shipping company is using their services. They will be very happy to collect it from your current house and delivery to your new home.
There is another way to get your motorcycle to your international movers to USA. You can simply drive it and get back home by train or on the bus. If you do not live far away from your service provide you can catch a taxi back home or ask one of your family members or friends to pick you up.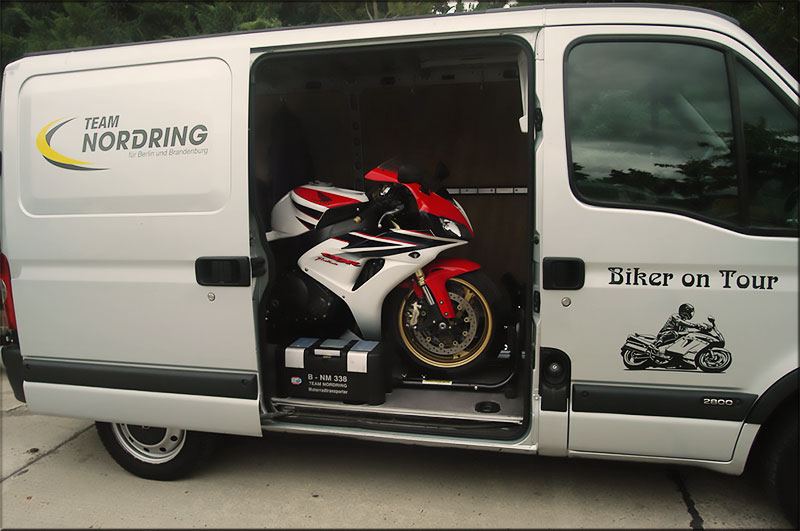 How to transport a motorcycle at low cost?
How to transport a motorcycle in the most economical and chap way? - This question many people ask themselves every day. Most often the need for a cheap motorbike transport arises when buying the bike overseas. It is much cheaper to get a professional motorbike mover to do it for you. Very often the distance is simply to long and it is not possible to drive the bike due the bad weather conditions, the time needed to drive the bike all the way back from where it was purchased to your location and due to a high gas costs. The motorcycle removal company will move more bikes at the same time and you will share the costs with other people. It makes sense to get professionals to do it for you. Importing a motorcycle from overseas is very often associated with a large number of formalities and high shipping costs. However, the motorcycle movers know the rules and can advice a few tricks to make it cheaper. If you are looking for Phoenix shipping companies to send your motorbike overseas, you are on the right website. Send us your enquiry, we will do the rest.
Things to do when transporting a motorbike on your own
take your time to read the motorbike trailer using guide
make sure the trailer is suitable for your motorcycle
make sure the company providing you with the motorbike trailer shows you how to use it
ask for most common mistakes and things to avoid
do the risk assessment, check the route, access at moving from and moving to addresses
check if the trailer is fully equipped and all equipment is in full working order
check the trailer speed limit
check the trailer lights, tow hitch
check the overall condition of the motorbike trailer on each day before you start your journey
do not carry any animals or people on the trailer
it the trailer has been designed for moving just one bike move one bike only
Do you have children and are planning to buy a bike for your kid? Check out this article - popular motorbikes for children.