Shipping musical instruments
Anyone who is a lucky owner of an upright, a ground piano or other large and heavy musical instruments knows that a real effort is required to lift it up and move even a few inches away in the same room. Therefore especially when shipping a piano overseas, for example to USA you will need a real professionals to pack your musical instruments, collect them and delivery to Sydney, Canberra, Perth or other cities in the U.S.
Our international moving company has been providing this type of shipping service for a long time. We have successfully shipped, without any damages, baby pianos, grand and upright pianos, percussion instruments, drums, electric guitars and more.
Our qualified and extremely able-bodied piano movers know perfectly well how to handle the music equipment and carry it up and down the stairs.
Lifting up and moving a piano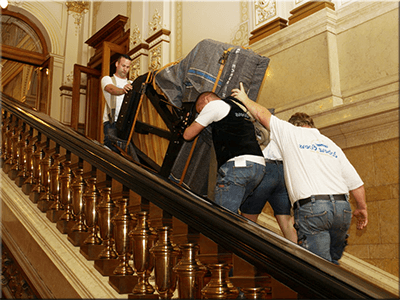 Very large and heavy musical instruments are moved using special piano lifting belts by appropriately trained personnel. Usually grand piano moves are carried out by at least four removal men. The way the musical instruments are lifted, shifted, carried, loaded and unloaded and the number of necessary carriers depend mainly on the weight and dimensions of the instrument.
A huge impact on the man power used has the logistic of the buildings at both ends. Less people will be needed if the piano needs to be taken away from the ground floor and more piano movers will be necessary to carry the piano down the stairs or up the stairs.  We always check the width of the stairway, floor height, the location of stairs and the distance from the house to the place where the removal van was parked. Virtually every musical equipment can be shipped and placed in the designated place.
Special piano removals equipment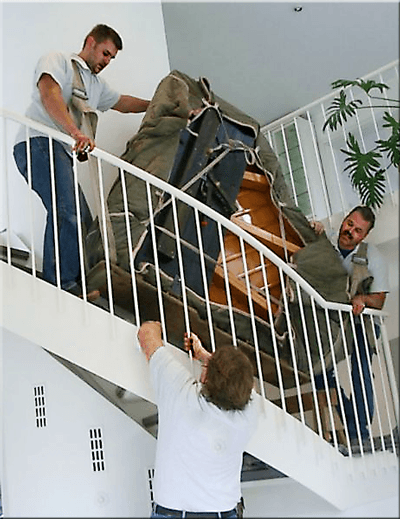 However sometimes it requires more work and a special plan and some good piano moving equipment implementation. In case the piano can't be moved in trough the door we have to use the window or a balcony to fit it in. Therefore each piano shipping to USA job or transport of other musical instruments is priced individually. If you ask us a question what's an average shipping cost of bringing a musical instrument to U.S. we will not be able to give you our price straight away.
We need to know the weight, the measurements, logistic, collection and the delivery addresses. It is also important to know and check if there are any height, width or parking restrictions.
Upright and grand piano shipping to USA
Our music equipment shipping services include:
Temporary music instruments storage
Packing and crating of instruments
At least 4 strong movers to do the job
Professional piano shipping to USA
Piano removals equipment like, belts, straps, piano lifts, sliders and hoists
Other moving to USA services
Our team can arrange the whole removals in a few minutes, without unnecessary stress and problems. The cost of shipping to USA may surprise you.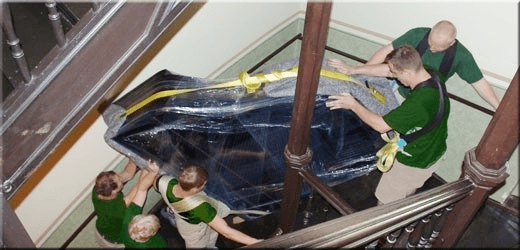 It is not as expensive as you may think. We use proprietary piano moving solutions (belts, hydraulic lifts and piano trucks).
We will transport any instrument and delivery to USA in perfect conditions, without damaging the product. We are 100% happy to work with you, just contact us for your free piano shipping rates and quote.
If you want to take your piano and bring it to USA we can help! If you want we can send your musical instruments by air freight or use the sea shipping service which is much cheaper. If you need other services, be it shipping paintings or artwork, we can also offer it for you.